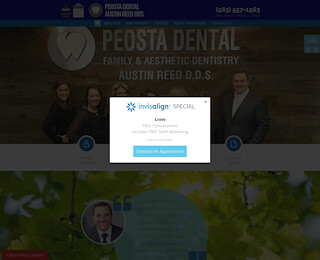 For quality dental implants in IA, visit our clinic – Peosta Dental. Call us if you're a new client, make an appointment, and complete the online form. Bring the paperwork to us, and we'll have a look at your dental history. Taking into account previous interventions helps us provide exceptional treatment.
Are Dental Implants Worth the Cost?
Patients at Peosta Dental state an overwhelmingly positive impression with implants. As you consider options for replacing missing teeth, you'll discover many advantages of implants over dentures and other dental prosthetics. With our high-end technology and the knowledge of our dentist, we will ensure the intervention is comfortable and painless.
We ensure your complete comfort and relaxation throughout the entire procedure. We use the latest anesthetics before the intervention so that you won't feel a thing. You don't need to live the rest of your life with broken or missing teeth- we will bring a radiant smile back to your lips.
Reliable Lifetime Implants
When you want functional and aesthetically-pleasing teeth, implants are the next logical step. Modern dental implants are reliable, efficient, and very sturdy, usually lasting for 10-20 years. After we place the crown, bridge, or denture, you'll experience many years of high-quality function with aesthetical benefits, as well. We will upgrade your teeth to the next level with our dental implants in IA.
After the implant, we use cosmetic services to beautify and enhance the look of your teeth:
Gum sculpting
Lumineers
Take-home teeth whitening
Smile makeovers
Smile analysis
Botox
Invisalign
Professional Dental Services
You'll find our staff friendly, knowledgeable, and highly skilled in modern dentistry. We are attentive and hospitable to our patients, and we care for their dental health first and foremost. Let us establish an amicable rapport with you and your family so that we can better take care of your teeth. Whenever you visit our clinic, we will welcome you warmly and professionally, in a stress-free and comfortable environment.
We help you regain your healthy teeth by dealing with whatever dental issues you face- and we straighten teeth as well. Most importantly, we take pride in having the most expansive service package around. Our restorative services include:
Smile rehabilitation
Dentures
Dental implants
Same-day crown & bridge
Inlays/onlays
Bonding
Tooth-colored fillings
Are Dental Implants Safe?
Dental implants are nothing new or revolutionary in the dentistry domain. Dentists have been performing implant dentistry for decades, and the practice has arguably reached perfection. For the best dental implants in IA, come to Peosta Dental, and let us take care of your oral health. With tailor-made services suitable for anyone and everyone, we will make the process comfortable, efficient, and painless.
You will feel much more joyous and happy to see how bright and healthy your teeth look after visiting our clinic. At Peosta Dental, we have always offered excellence when it comes to our patients' oral health.
Dental Implants IA