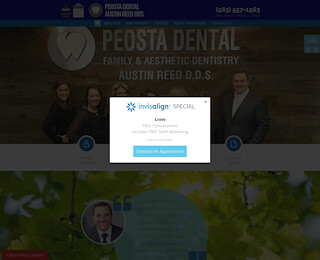 With our Dentist in Dubuque, IA, you will never fear teeth problems ever again. We deal with any dental issues, from cavities, extractions, implants, fillings, and even teeth straightening. Peosta Dental helps you achieve excellent oral health indefinitely, with regular check-ups, x-ray analyses, and much more.
What Are the Benefits of Seeing a Dentist?
One thing is clear- you can't treat yourself at home for dental problems. What's more, you also can't diagnose yourself since you lack the required knowledge. Coming to the dentist is a logical decision; if you're a newcomer, contact us, and we'll set an appointment for whenever it suits you. Be sure to complete the online form beforehand.
Allow us to become your number one dentist, and we'll treat both you and your family with the attention and professionalism you deserve. There are several reasons why you should choose us:
Technology leader- same-day crowns, Invisalign (Invisalign Teen), Digital scanning – no more x-ray goop
Convenience factor- same-day & walk-in appointments, early morning appointments, 24-hour emergency care
Personalized care- services for the whole family, tailor-made for your specific needs, an extensive range of customized treatments
How Can I Keep My Teeth Healthy?
You have multiple strategies by which you can maintain healthy teeth: brushing, using dental floss, and mouthwash. Yet the most efficient and time-efficient solution is to see a dentist. Our staff will take care of everything, from clean-up to check-ups, analyses, and even dental interventions. We have tailor-made services for your individual needs, so you feel as comfortable as possible.
Our dentist in Dubuque, IA, uses high-end technology with a high rate of success for most dental problems. Using x-rays (digital and panoramic), the intraoral camera, digital imaging, and a soft-tissue laser, we care for all of your family's dentistry needs. Come to us and we'll turn your dental issues into a thing of the past.
Painless Extractions in Iowa
Usually, our professional dentist uses a fluoride treatment to reduce the risk of cavities; however, when that's not possible, we offer fillings, root canal treatment, crowns, and extractions. You have nothing to fear because we have performed these procedures countless times before, and such interventions are pain-free. Through our x-rays and digital imaging, we'll prevent any possible mishap before beginning the operation. This way, your oral health will thrive in our hands, and your teeth will be healthier than ever.
Can Dental Cleaning Damage Teeth?
During a dental cleaning, our hygienist removes plaque from the surface of your teeth while you rest comfortably- feel free to request mild sedation during the process. This results in your teeth becoming temporarily sensitive to outward stimuli, but they won't suffer damage in the least. At the dentist in Dubuque, IA, we offer only quality dental care.
Come to Peosta Dental, bring your teeth problems to us, and walk out a changed person, with a brighter and healthier smile. Moreover, we provide comprehensive and expansive services for you and your family.
Dentist Dubuque IA