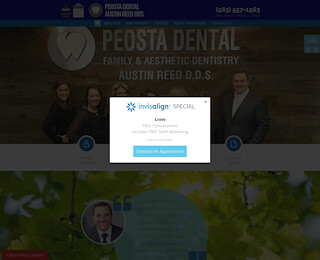 At Peosta Dental, we are dedicated to offering excellent and top-class dental services. Our aim is to help you and your loved ones achieve healthy dental hygiene and excellent oral health. Our dental services include Restorative Dentistry, Cosmetic Dentistry, and Preventive Dentistry. We remain the trusted Dubuque dentist serving adults and young patients in Dubuque, IA, and nearby cities.
What's more, we are experts in dental procedures such as fixing dental implants, Invisalign, veneers, bridges, crowns, teeth whitening, and many more. We also provide advanced procedures like Digital X-Rays, Panoramic X-Rays, Digital Imaging, and so forth. No matter your dental needs, our dental office in Dubuque, IA, is the ideal place to turn to.
What Procedures Can A Dentist Perform?
The dentist is that special doctor for your family oral health. The dentist can perform many procedures aimed at making sure that you and your entire family keep smiling till old age. From common procedures like teeth whitening to serious ones like root canal and oral cancer examination, the dentist offers a wide range of services. Here are some of the major services and the specific procedures a dentist can perform:
Restorative Dental Procedures
These are procedures that replace missing or damaged teeth. They are generally aimed at bringing back your natural smile and preventing future oral issues. The procedures in this category include:
Bonding
Dental implants
Dentures
Inlays/Onlays
Same-day crown and bridge
Smile rehabilitation
Tooth-colored fillings
Cosmetic Dental Procedures
These are procedures that are aimed at improving the appearance of teeth, gums, and/or bite. They take care of all aspects of dental aesthetic including teeth color, position, size, alignment, and the overall aesthetic of the overall smile appearance. The procedures in this category include:
Botox
Gum sculpting
Invisalign and Invisalign Teen
Lumineers
Smile analysis
Smile makeover
Take-home teeth whitening
Preventive dental procedures
These are dental procedures that are generally aimed at preventing teeth decay and other dental health issues. In addition to the procedures in this category, educational instructions are considered an integral aspect of preventive dental services. The procedures in this category include among others:
Custom multi-layer athletic mouthguards
Dental sealants
Fluoride treatment
Oral cancer checks
Root canal therapy
Routine dental cleaning
Snoring prevention
TMD Treatment
Integrated technology
Technology is changing dentistry just like other medical fields. Several technologies have been integrated into dental care to enhance oral health in many ways. Here are the most important ones:
Digital imagine
Digital X-rays
Intraoral camera
iTero goop-free impressions
Panoramic X-rays
Soft tissue laser
What Are The Benefits Of Routine Dental Cleaning?
While dental cleaning will help to improve your smile, the benefits are a lot deeper than impressive smiles. Here are some of the most important benefits of the procedure:
Brighter whiter smile
Prevention of gum disease and other oral health issues
Early detection of treatable oral cancer
Reduced chances of deadly heart attacks and strokes
Preventing serious oral health issues that can cost you lots of money in the future (cost-effective).
Contact Us Today!
Taking adequate care of your teeth and gums, professionally and regularly is essential for your health. Contact us today to speak with any of our compassionate and qualified Dubuque dentist at Peosta Dental. We are the reliable general dentist in Dubuque, IA, that can help you stay orally healthy. We guarantee you excellent dental services.