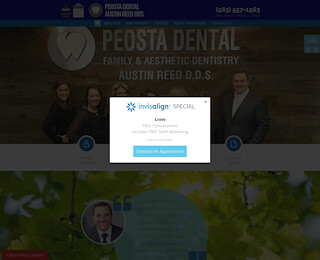 Visit the general dentist in Peosta, IA, to receive the exceptional dental care that your teeth need. We promote a hospitable and comfortable environment here at our office, one that our patients confirmed during their visits to us. At Peosta Dental, we care for your teeth as no one else does- with professionalism, excellent medical knowledge, and utmost attention.
What is a General Dentist?
A general dentist provides comprehensive dental care services from teeth extractions to teeth whitening, crowns, veneers, bridges, fillings, root canals, gum care, and so much more. We split our services into three packages:
Restorative – smile rehabilitation, dental implants, dentures, inlays/onlays, bonding, fillings
Cosmetic – smile makeovers and analyses, gum sculpting, botox, Invisalign, take-home teeth whitening
Preventive – dental sealants, snoring prevention, fluoride treatment, root canal therapy, oral cancer check, TMD treatment
Using leading technology such as digital and panoramic x-rays, digital imaging, intraoral camera, and soft tissue laser, we ensure the accuracy and quality of our services. For any dental problems you have, we will deal with them efficiently and time-efficiently. Come to us now, bring your online form if you're a new client, and we'll assess your dental health immediately.
General Dentistry Near Me
Our clinic is located in Peosta, and we are the very best general dentistry clinic in the area, having achieved a Gold Provider Plus status with Invisalign. We offer you an easy way to achieve whiter and more beautiful teeth. If you want to straighten your teeth, but you dislike the traditional wires and brackets, the Invisalign aligners are the solution.
With the added comfort and the ability to take Invisalign aligners off at any time, they are vastly superior to the traditional straightening brackets. They will fit your teeth perfectly, and they can treat many conditions, including open bites, gapped teeth, underbites, crowding, and crossbites.
Your Initial Appointment
During your first visit at our office, we will spend more time assessing your dental and gums' health, as well as previous dental interventions. We will do a clean-up as well, while we're checking the integrity and heath of your teeth; this is just a preventative measure that we take with our first-time patients.
At the end of the appointment, we'll discuss what courses of action you should take given your dental health. If we identify any issues with your teeth or gums, we'll let you know immediately. Your next appointment at our general dentist in Peosta, IA, will be the one where we begin treatment if need be.
Can a General Dentist Perform Cosmetic Dentistry?
Our general dentist in Peosta, AI, provides both general dental care services such as root canals, cleanings, and cosmetic enhancements like teeth whitening. We offer a comprehensive and integrated dental package for anything teeth-related (preventive, restorative, and cosmetic care).
Let the Peosta Dental clinic become your main dental care provider, and your teeth will surely appreciate it. You will notice yourself smiling more because you will be proud of your healthy teeth. When your teeth are white, bright, and healthy-looking, then we'll consider we did our job perfectly.
General Dentist Peosta IA