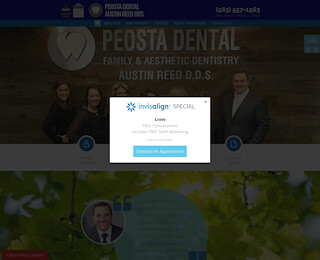 Dental issues such as teeth misalignments and deformities can make your face look unappealing. You will lose your beautiful appearance, inviting smile, and self-confidence. Nonetheless, you do not deserve this. Invisalign procedure offers a brilliant way to correct your dental imperfections and enhance your looks. For your Invisalign procedure, always turn to Peosta Dental. We are the ideal Invisalign dentist in IA to perform the procedure.
For several years, we have helped several kids and adults correct their dental imperfections using our effective Invisalign procedure. Whether it is a recent teeth deformity or major tooth misalignment, our Invisalign procedure is perfect for you.
What Is Invisalign Dental Treatment?
Invisalign dental treatment is a special treatment that involves wearing a series of clear, removable aligners that can straighten teeth gradually. The major advantage of this treatment option is the special nature of the aligners used. The Invisalign clear aligners are made of a patented thermoplastic material called SmartTrack®. These special flexible plastic are exclusively made for Invisalign treatment. They are a lot more convenient to wear than regular metal braces since there are no brackets or wires.
Why Should I Get Invisalign?
Invisalign dental treatment is considered the best way to straighten misaligned teeth. It offers so many advantages over wearing traditional braces. If you are still wondering why you should get Invisalign ahead of other methods of straightening teeth, here are important reasons to consider:
It is a comfortable treatment option that is also very convenient. The special removable plastic aligners can be taken out whenever you want to eat, drink, or brush your teeth.
The Invisalign aligners are virtually invisible, letting you carry on your daily activities with beautiful smiles and confidence.
The aligners are also very easy to clean and cared for. The plastics are special indeed, giving you peace of mind as they realign your teeth gradually.
Invisalign technology has improved over the years: what you will find now are highly improved aligners that offer painless alignment of your teeth. You will see constant improvement faster.
Invisalign dental treatment is very safe. Since there are no wires, there is no chance of injuries. All the issues you can encounter with braces that have brackets such as pain, discomfort, mouth sores, plaque buildup, tooth discoloration and others are eliminated.
Invisalign dental treatment ensures that you have healthier teeth and gum as you attempt to align your teeth and improve the general appearance. When you have your teeth properly aligned by using Invisalign aligners, you will have the strongest defense against potential periodontal problems.
How Much Does Invisalign Cost In 2019?
The cost of getting Invisalign dental treatment will generally depend on the nature of your dental issue and the number of aligners you will need. The dentist or clinic you are getting Invisalign treatment from can also improve the cost. The treatment can cost anything between $1,500 and $4,500.
Choose Us as Your Invisalign Dentist in IA
Do you have deformed or crooked teeth? Visit us today at Peosta Dental for your Invisalign procedure. Our qualified Invisalign dentist will be available to speak with you and discuss your options. We will determine if you are eligible to wear Invisalign. Our Invisalign procedure is guaranteed to provide an ultimate solution to your teeth misalignment or deformity issues.
Invisalign Dentist IA