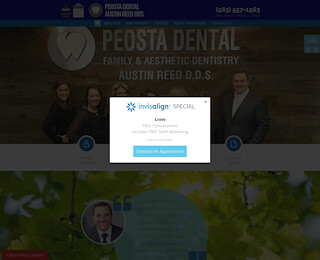 Lumineers is a fast, non-invasive procedure that is done to eliminate gaps between the teeth. The procedure helps to improve your smile by hiding your dental flaws. For your Lumineers in Peosta IA, Peosta Dental is the ideal dental office to turn to. We offer patients in Peosta strong and durable Lumineers to restore a chipped tooth, tooth stains, and gaps.
Our Lumineers in Peosta, IA, are custom-made to fit you perfectly. The procedure is safe, painless, and effective. The Lumineers can be fixed without grinding down the existing tooth structure. Above all, the Lumineers are very durable and can be worn for over 20 years.
What Are Lumineers Teeth?
Lumineers are ultra-thin covering for the teeth that can be fitted quickly and painlessly by the dentist. Lumineers are typically made from an advanced cerinate porcelain and are so thin that they can fit perfectly without the teeth being shaped or ground to accommodate them. They can also be fitted directly onto crowns and bridges without having them replaced. Lumineers teeth correct different dental issues including alignment of crooked teeth and restoring chipped teeth. The fast, non-invasive procedures with lumineers are highly effective and will keep your original teeth intact.
Why Should I Get Lumineers?
Considering that lumineers is a safe procedure that keeps your original teeth intact while correcting several dental issues, it is a procedure you should consider. If you are wondering while you should get Lumineers, here are some of the many reasons:
To Brighten Stained and Discolored Teeth – Stained or discolored teeth can result from a number of habits including smoking and drinking of wine and coffee. Whatever the cause of stained teeth, lumineers will correct the problem and make your teeth look great again.
To Restore Chipped Teeth – A chip on one of your teeth can be a real issue when it comes to the appearance of your smile. Lumineers will fix it quickly for good.
To Eliminate Spacing and Gap – Gaps and spacing issues you are not comfortable with can easily be corrected by getting lumineers teeth.
To Align Crooked Teeth – Crooked teeth are always unpleasant and can affect your confidence. Getting lumineers teeth is a fast and painless alternative to wearing braces.
To Reshape Small or Misshapen Teeth – Misshapen teeth can significantly affect your smile. It can easily be corrected through lumineers teeth without any effect on your original teeth.
To Renew Old Dental Work – Dental works can always add some youthfulness to your face no matter how old you are. Old dental works can always be improved with lumineers.
To Perfect Your Beautiful Smile – If you truly desire to perfect your smile, you should consider getting lumineers teeth.
How Long Do Lumineers Teeth Last?
Lumineers are generally durable. They can resist wear and remain resilient for years. Under normal circumstances, Lumineers can last at least 20 years.
Need Lumineers in Peosta IA? Contact Us Today!
For your Lumineers in Peosta IA, contact us today at Peosta Dental. Austin Reed, DDS, and his team of qualified and well-experienced dentists will be happy to speak with you and discuss the dental options available to you. Our Lumineers will help fix your teeth imperfections and restore your beautiful smile. A wonderful experience awaits you.
Lumineers Peosta IA