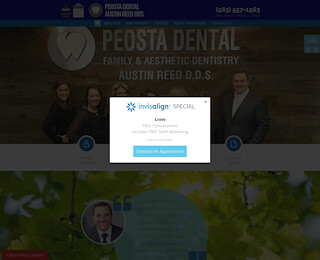 At Peosta Dental, we seek to help our patients with their dental problems. For any teeth issues, you come to us, and we'll get you sorted out. Finding a good Peosta dentist is hard, but we commit ourselves to your oral health. We will do what's necessary so that your teeth remain strong and healthy.
Why Should I See a Dentist?
If you have a toothache, you expect it to go away in time. It might, but it might also be a symptom of something much worse. To be safe, visit us so we can take a closer look. With a professional diagnosis, you'll know what to do next, and we'll provide better care for you. Begin your journey toward excellent oral health with us.
On your first visit, bring your completed forms so we have all the necessary data- you'll find print-out forms located on our website. Make an appointment, and bring all the paperwork, so we have a general idea about your oral health and previous interventions. We'll provide a diagnosis and then talk about the best possible approach to your issue.
Which Type of Dentist Offers the Best Services?
Our services are comprehensive, and they target a variety of issues. We deal with restorative, cosmetic, and preventive situations, and we use state-of-the-art technology, including digital x-rays, intraoral camera, soft tissue laser, digital imaging, and so on.
Our preventive treatments include:
Dental sealants
Custom multi-layer athletic mouthguards (you can personalize them with names, logos, or numbers)
Snoring prevention
Fluoride prevention
Root canal therapy
Oral cancer check
TMD Treatment
Achieving Excellent Oral Health
While you can take steps toward this goal at home, acting in a preventative way, coming to our Peosta Dentist has massive advantages. We perform regular check-ups, recommend oral products, and clean your teeth whenever you come to us. Brushing your teeth won't have the same effect as professional cleaning. For any questions, call us our front desk staff.
If you wish to straighten your teeth, but you loathe the look or feel of the traditional brackets or wires, we have the solution for you – Invisalign. With clear orthodontic technology, you will feel more comfortable, you'll be able to eat anything, and you'll enjoy discreet treatment- remove aligners for two hours each day for additional comfort.
Affordable, Quality Dental Care
Our impeccable reputation results from the professionalism, care, and excellence that we promote through our services. You'll have a brighter smile the more often you come to us, and your oral health will hit through the roof. We deal with caries, extractions, fillings, dental implants, and so on.
At Peosta Dental, we have the best Peosta Dentist in the tri-state, simply because we have an excellent Invisalign procedure. We are the only ones to achieve a Gold Provider Plus status in this sense. Achieving straighter teeth doesn't have to be stressful and annoying.