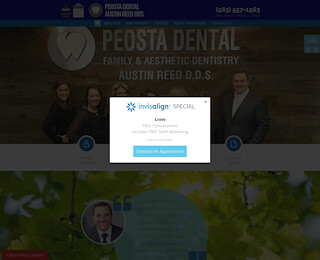 Are you looking for teeth whitening in Peosta, IA? Don't hesitate to visit our center and ask for help. With revolutionary technology and the expert help of our dentist, your teeth will go from yellow to white in only a few sessions. At Peosta Dental, we give your teeth a luxurious treatment.
Should I Whiten My Teeth?
You should only whiten your teeth at a dentist's if you want more beautiful teeth. Your teeth could yellow in time due to everyday elements; if you're not happy with their appearance, whitening is most likely an option. One of the integral parts of our cosmetic services is our Take-Home Teeth Whitening package, which allows you to deal with your teeth in the comfort of your own home.
We will make sure you look your best in society, whether you're dating someone or you're entertaining a few guests at home. Everyone will notice the change right away because you will have a brilliant and glorious smile. The impression you'll make will be much more favorable and positive; with whiter teeth, everyone will like you more, and even you'll be more self-confident.
A Quality Teeth Whitening Solution
If you're a first-time patient, contact our team from Peosta Dental to make an appointment. We'll clarify any concerns and inform you about our services. Essentially, our teeth whitening procedure is the result of years of experience, and the reliability of our dentist. Dr. Austin Reed is a staunch supporter of personalized dental care, and he promotes top hospitality at the clinic.
We only use the very best technological equipment to ensure you receive quality dental care. Your first visit to us will start a beautiful dentist-patient relationship. Come to us, and we'll provide a professional teeth whitening procedure that's efficient and comfortable.
The Best professional Checkups
On your first visit, the appointment will take longer because we want to assess your dental health as accurately as possible. We need you to complete the online form and bring it to us so that we can be as time-efficient as possible. Our gentle and hospitable hygienist will determine your gum health, clean your teeth, and recommend future meetings based on your needs.
Our clinic's cosmetic package includes the best teeth whitening in Peosta, IA. Plus, we can also administer smile makeovers and analyses, gum sculpting, botox treatments, and Invisalign services. We promote our comprehensive service packages in a personalized way, to fit each patient's needs.
How Long Does Teeth Whitening Last?
Undergoing teeth whitening in Peosta, IA means your teeth will shine brightly for 2-6 months. Of course, this lifespan will drop if you're a smoker or consume products that stain your teeth (coffee, tea, red wine, and so on).
Bring your children to Peosta Dental, and we will make sure their teeth remain healthy for the duration of their growing period. We install braces or use the Invisalign procedure to straighten their teeth as well.
Teeth Whitening Peosta IA